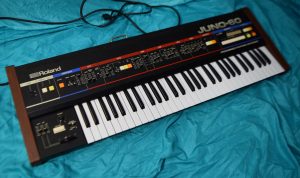 "100% functional, amazing-sounding Roland Juno 60 with MD-8 MIDI-DCB converter box to allow you to use it as a MIDI controller or send MIDI to it from another synth or a DAW.
Comes with DCB cable and power cables for both the MD-8 and the J-60.
Owned this for several years, kept in my smoke-free studio. Will be shipped with LOTS of bubblewrap in a HUGE box so it arrives with no damage to you!
It's a fully-functional Juno-60, and if you don't know what this is, how nice it sounds, or what it does, please educate yourself instead of sending me questions. 🙂 No offense, I'm just cheesed that I have to sell it to pay some bills, so I don't really want to answer a bunch of questions, I'd like it to go to a home where another musician will love it as much as I did." Click here to visit listing on eBay