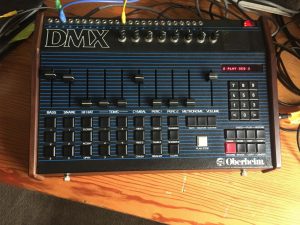 "I´m selling this AMAZING original Oberheim DMX Drum Machine with lots of upgrades, external devices, original and several extra voice cards, hard flight case and more ( see description bellow). This machine was serviced ,modified and upgraded by the great DMX guru Paul White at Electrongate.com US. (please feel free to ask him about this machine at http://electrongate.com/) All original voice cards and functions are in perfect working order!
List of mods, upgrades , external devices and extras:
-Electrongate MIDI board (much better than the old factory one)
-External tuning knobs for each voice card ( you can use then in conjunction with the internal pitch control)
– DTB-8 external device 1u rack for controlling the DMX voices with external triggers (modular or manual) send you triggers to the DTB inputs and it sends them to the DMX with a 3 meter molex connector cable, all included see pictures.
-Modular Trigger OUT sockets (3.5″ eurorack style) for EACH BUTTON , imagine controlling your analog gear or modular synthesizer drums with the versatility of the DMX sequencer! Adjustable trigger length for each row in the inside.
– Memory banks upgrade , MORE MEMORY ; MORE PATTERNS TO SAVE.
– New display , replaced at Electrongate.com
– HAndy screw knobs to open the DMX with your hands
-FREE (as a gift) Original Voice cards ( eight of them) with more sounds and Eproms ( see pictures) these are very expensive on ebay, consider it like a present for buying the Best DMX on the Planet! Cards are Linddrum snare, Drumtrax claps, long hihats, cowbells, and much more 80´s sounds
– Very strong hard flight case
– Original Manuals , operation, service and upgrades" Click here to visit listing on eBay
Leave a Reply