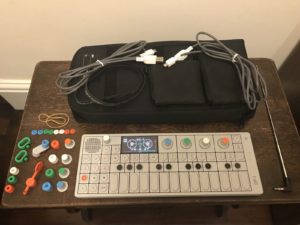 "Here we have the unique and truly awesome Teenage Engineering OP-1 multi-engine synth, drum machine, sampler & audio recorder.
For those unfamiliar with this fun size synthesiser it packs a major punch, with numerous synth and drum engines creating some really original and usable sounds and a cool 4 track tape style recorder to get your ideas down quickly.
The form factor is equally amazing, housed in a serious block of high grade aluminium and with serious battery life, this tiny synth is perfect for making pro music on the move.
I basically maxed out and got the full accessory kit – including a full set of spare knobs and the crank, bend and lego (yes, lego) attachments and the cool carry case. I also got a spare cable so I could keep one in the bag and one on my desk.
Firmware is the latest version – #225.
Condition
In truth it's probably only been out of its case a dozen times. Other than two tiny marks to the right end and a bit of discolouration to the feet it looks hardly used, cos it hasn't been! Which is why I'm selling in truth. It's too good to be sat in a cupboard.
The only signs of wear on the case are a bit of rub to the press stud covers (visible in the photos)." Click here to visit listing on eBay