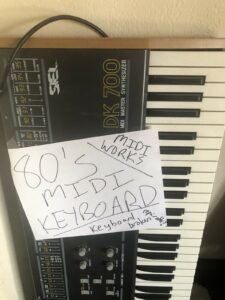 "SIEL DK 700 SYNTHESIZER – MIDI WORKS – Keyboard Not Operating.
Power cord included, does have a substance melted to it, power cord function unaffected.
The midi works, which is the desirable part of this rare 80s keyboard. the keys themselves are not functioning. One key has damage underneath, seen in one of the pictures.
Perfect for the person who can repair the keyboard or good for use just as a midi." Click here to search for synths on eBay