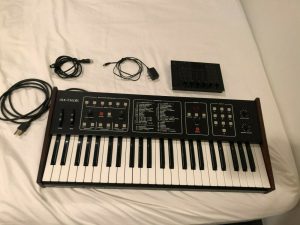 "Sequential Circuits Six-Trak 6 Voice Analog Polyphonic Synthesizer w/ Programmer.
In great condition. Recently serviced by previous owner. Synth works great! Keypad can be a little hard to operate but is to be expected of a keyboard this vintage.
However, you won't really need the keypad with the addition of the programmer! I will include instructions on how to use. This really unlocks this synth's potential.
You'll own one of the greats! This synth's brother is the Prophet 5. It's filter sounds unlike anything else. This is a killer synth. Has the warm analog sound that we all go after as synth heads!" Click here to search for synths on eBay