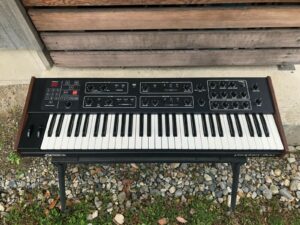 "Sequential Circuits Prophet-600 polyphonic synthesizer
Looks 8.75 of 10
Some scratches discovered but in clean condition. please see pictures.
Works 10 of 10
Everything works as specified, overhauled before shipping to have long life and to keep original sounds.
Work list:
Change all elec. caps, tant caps and poly caps with new ones.
Change all power regulators and rectifier diodes with new ones
DAC adjustment
Change all buffer Opamps and multiplexors with new ones
Keys, knobs, switches and jacks cleaning.
gligli firmware 2.00 installed
factory 100 sound data installed
Voltage changed to 120 or 220-240V for free on buyer's request." Click here to search for synths on eBay