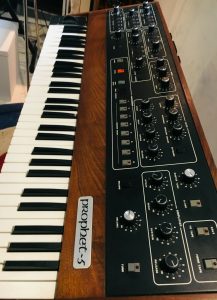 "Sequential Circuits Prophet 5 with MIDI – the '80's analog classic. Condition is Used. Collection in person only.
This comes with the instruction manual and a cassette recovery tape with the original patches – should you have a cassette player, if you don't, it's a neat bit of retro art, if you like.
IMPORTANT; This synth is COLLECTION ONLY. I've had a few bad experiences where vintage gear has been posted and then not worked as advertised, then I've been told, "it was fine when I posted it."
Now, that may have been the case, but I want to save myself and the winning bidder any trouble by making this collection only.
That way, you can see the machine, check it and everyone is happy. You can take a look at the attached video description too, for peace of mind.
OK, you're here, so you already know this is one of the Big Three analog polys of the early-to-mid '80's, so, although DSI have new versions of this out, they're not time machines. This is your one chance to feel and experience the genuine analog sounds of that golden era. And yes, it was a golden era, let's admit it.
For me, this has more warmth than the other Big Two, the J8 and OBX/a, but once in unison it can kick your speakers and churn out some high weirdness – famously, Japan used the Pro's modulation craziness on "Ghosts" to memorable effect.
If you watch the vid, don't expect a display of virtuoso musicianship or a knob-by-knob breakdown of the P5 – you can get that with loads of vids on YouTube. It is simply a demonstration of functionality, so please don't leave cutting reviews. I don't plan on releasing the demo as an album. Or do I?
As you can see from the pics, there is some cosmetic hoo-hah, a few scratches here and there, but not bad for a machine that gigged throughout the '80's. Also, the bottom B key is a bit sticky (again, this is highlighted in the video) so will need a clean.
I'm selling because, quite simply, I need the space and the Pro 5 has done its time in my arsenal, so it can now move on with honours to be enjoyed by someone else who'll appreciate it. "
Click here to search for synths on eBay