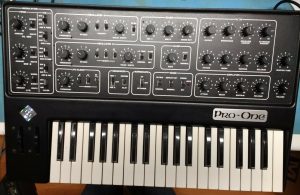 "The awesome pro-One in great working order. No modifications. Recent restoration includes; 8 noisy potentiometers replaced with new ones, all new keyboard bushings, new power cord, new power switch, new fuse holder. All switches and potentiometers cleaned. Keyboard contacts cleaned like new.
Includes an extra keyboard to circuit board cable that is extra-long.This is useful for servicing.
Extra spare potentiometers included in case you need to replace any in the future.
This is a J-wire model.
Original instruction book is included." Click here to visit listing on eBay