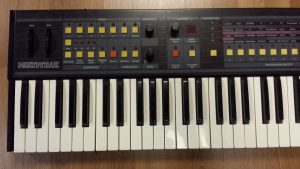 "Offering up this analog gem. It's been in the family for decades, but hasn't seen much use lately.
I have extensive electronics experience, so I serviced it. I cleaned the controls, performed the battery life modification, and installed a new Energizer Lithium battery. Should last 10 years before it needs service again. Other than that it is unmodified and it is a revision "A" board. The patch memory was lost when the battery died, but I programmed a handful of sounds to test out the features. There is a lot of information regarding the original 100 presets online if you are looking to restore the factory samples.
Everything except the "tape drive" functions were tested. All controls, MIDI and audio I/O are 100%.
The power cord insulation is cracked as noted in the pictures. There are scratches on the bottom and a ding or two on the control plate. Otherwise it is excellent!"
Click here to visit listing on eBay