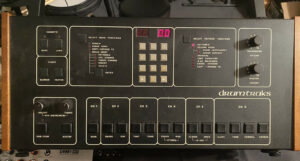 "
Comes with a Digital Deck Cover to keep the dust off.
Sequential Circuits Drumtraks Model 400. Condition is "Used".
Great sounding vintage drum machine. Prince used this exclusively.
This machine plays well and all sounds work.
***please read**
Although this machine works it's not in perfect working order.
The volume and tuning section acts erratically while trying to dial in each sound.
This does not change during play once pattern is set, only while turning the knobs." Click here to search for synths on eBay