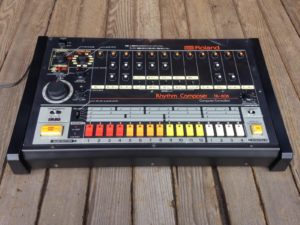 "Listing is for the CLASSIC Roland TR-808, I have owned this machine since 2004, and have put no more than 10 hours on this machine.
The face is extremely clean, and has a factory fit plastic shield with Japanese lettering that has helped to keep the beauty of this machine intact.
Everything functions properly and sounds great.
The custom suitcase is foam padded and a good fit if you need to move this machine anywhere.
Only down side is some minor corrosion on the outside of the battery cover (see picture), battery compartment is clean." Click here to search for synths on eBay