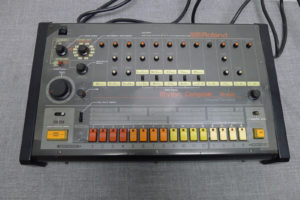 "This iconic vintage drum machine was pre owned and used.
It has some wear from age and use but is in overall good condition.
There's some light scratches and scuffs, the power button is damaged.
NOTHING THAT AFFECTS FUNCTIONS!!
We believe this is a fully functioning.
Was tested and did get it to sequence and play like it should.
Could not fully test due to lack of knowledge and equipment.
Did not see any indicators that this item has any issues." Click here to search for synths on eBay