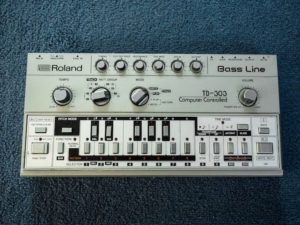 "Roland TB 303
Classic analogue synth.
All in perfect working order.
Serviced a few years ago in 2015 by Kent Spong of KSR.
The pots are nice and firm with no crackles.
Hasn't seen too much use as you can see from the condition of the unit. That being said it does have a couple of minor surface scratches on the bottom and front side of the unit which I have shown in the pictures.
It was midi modded sometime back. This doesn't seem to sync to midi but can be used to trigger notes. I always used it with a Kenton Pro solo to sync the internal sequencer.
Selling with power supply, din sync (sync24) cable and two mini jack to female midi connectors again as seen in pics. " Click here to search for synths on eBay