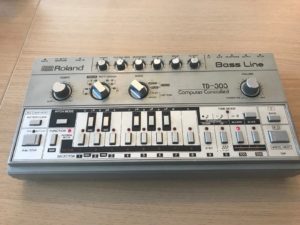 "This is an original gangster TB-303 thats lived in a non smoking studio environment for the past 5 years in Brooklyn New York. It's produced for a bunch of records so its had a good life here and I would like to hand it off to someone that can take good care of it. I have a kid on the way and so I have to start becoming a dad. More picks off the TB-303 up soon.
I updated the picks finally. To answer a few questions you may have, heres a bit more info;
– No scratchy pots. All of the knobs work well with out any scratchy noise.
– There is no corrosion in the battery chamber.
– All of the in and out puts work.
– Batteries included. But you have to get your own DC 9v power source." Click here to search for synths on eBay