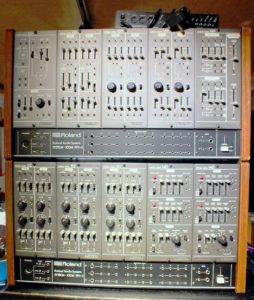 "Roland Studio System 100M modular synthesiser comprising two full 191J cabinets plus 181 CV Keyboard in good condition.
With six VCOs and three LFOs, this system makes a very powerful two voice system for example. Having four VCAs allows for VC controlled modulation rather than just audio duties. This system sounds truely massive with just two or three VCOs running, let alone six! The module compliment included gives greater variation than the standard set, not being two duplicate racks. Can demonstrate in the studio if required.
All power supplies are UK 240V though one rack was originally a 100V Japanese unit, it hase been professionally installed with a new internal UK transformer.
Included is a Kenton Pro 2 Dual channel MIDI to CV converter to allow easy integration with modern technology.
Also included (not currently fitted) are two pairs of beautiful hardwood endcheeks from Lamond Design, the ultimate synth cabinet maker! These can be used to replace the standard foiled board ends that Roland used and are drilled ready for fitting.
The system contains:
3 x M112 Dual VCO (Six VCOs in total)
1 x M121 Dual VCF
2 x M130 Dual VCA
1 x M132 Dual CV/Audio mixer & voltage processor
2 x M140 Dual ADSR with LFO
1 x M150 Ring modulator, noise, sample & hold & LFO
2 x 191J 5 slot powered cabinet
10 x DIN power cables
Assorted 3.5mm patch cables
1 x 181 49 note keyboard
1 x DIN Keyboard cable
1 x Kenton Pro-2 Dual Channel MIDI/CV Converter" Click here to search for synths on eBay