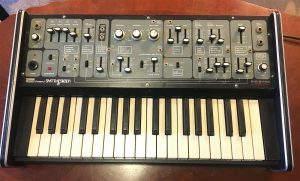 "Up for sale is a vintage Roland System 100 analog synthesizer.
We bought out a large studios full inventory a couple of months ago. Most items we are keeping. Some items, like this one which we have no need for, we are selling.
It was tested for under an hour and here is what we found…
It all works, all sliders, jacks, keys etc and sounds amazingly wicked. BUT there are a couple of sliders that feel a slight bit looser than others and have sputtered signal when moved at some point along the throw of the fader… that said all sounds good without sputtered noise when set and left.
Also, some keys on occasion double trigger. This is a VERY common thing with roland synths of this era as had several SH5, SH3, SH7's etc… all had that issue. When we triggered this synth via external CV it played, responded and handled perfectly via another keyboard. "