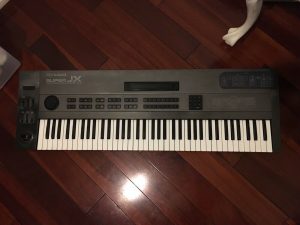 "Roland JX-10 Polyphonic Analog Synthesizer. Condition is Used. Local pickup only.
Don't have all the necessary tools and time to fully commit to refurbishing this awesome synth. Was gifted to me but I'm not exactly in the market for these models.
The main issues I've encountered are
11 dead keys: either sometimes respond or not responding at all (Marked keys in pictures provided).
Buttons: Heavy force or repetition for some buttons to finally respond or don't respond at all.
LFO Bender: Does not seem to add effect, pitch bender (left &right) works great.
Aftertouch: Slider for said aftertouch also, does not seem to add effect.
Cosmetics: Paint job is damaged considering its years.
MIDI has not been tested but inputs and outputs seem to work great.
Original power adapter not included, using a makeshift adapter." Click here to search for synths on eBay