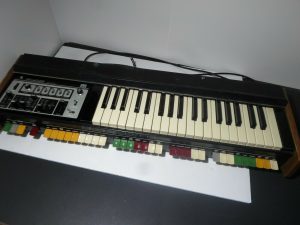 "Description: Used vintage SH-2000 synthesizer in pretty good shape with scratches and some paint wear.
This was made in the 70's and these sounds are 100% iconic. Heard on T.V. and Radio in the 70's, everything that was played by me seemed to work on this. Very vintage analog sounds. Rare item and saught after strongly by collectors. 117v. All screws present along with both vintage screw in feet.
I can't gaurantee everything to work as new for a 40 year old instrument, but this is definately what I call working.
Due to the nature of vintage items, it's sold as-is. No returns. I really hope the buyer appreciates the nature of these vintage sounds."
Click here to search for synths on eBay