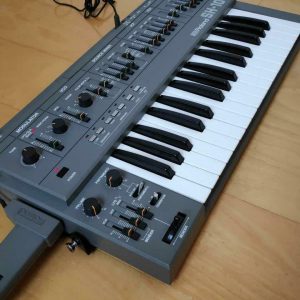 "Purchased around 1984, analog synthesizer Roland SH-101.
One owner, the best, is a complete move. The genuine case (bag) is also a good product.
There is very little usage frequency and there is not much usage.
There is not a lot of fading as a whole for preservation in the case, and there are no noticeable scratches or cracks.
However, please understand that it is a vintage synth and it has passed years. For the sake of safety, I have "Slightly damaged or dirty".
As a matter of concern
There are some leaks in the battery only, and there is rust on the terminals. (9 photos)
There was a knob with some Gari because it was operated for the first time in a long time, but it was resolved by operating it."
Click here to search for synths on eBay