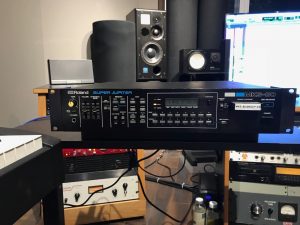 "I've owned this unit for almost 20 years, but haven't used it much. I own the entire Roland MKS line, and it pains me to sell but I need to free up money for a piece of gear I need for Mixing. This is been the jewel of my collection for quite some time.
I have brought the unit to Allen @ Synthspa here in Tennessee and he did a full restoration which includes:
– Power supply board rebuilt
– output section resoldered and deoxidized
– new removable battery and chassis
– full calibration
– front panel rebuilt ; all pots and sliders
– great internal sounds!
He also replaced several of the audio capacitors with high quality components, and a few of the output transistors. The unit sounds cleaner than it's ever sounded.
It is a 30 year old unit, so it has some bumps and bruises.
This is a VERY great sounding synth and one of the best vintage rack mount modules in existence. Also, this is not the latest rev5 version, so it has the preferred filters. Because it is a tone module, it responds to velocity unlike the Jupiter 6 and 8. Includes memory card." Click here to search for synths on eBay