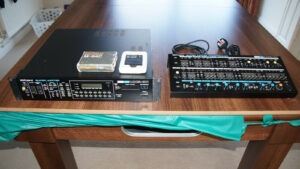 "ROLAND MKS-80 Super Jupiter Synthesisier, MPG-80 Programmer and M-64C Cartridge. All items are fully functional and MKS-80 has been recently serviced and calibrated.
Both the MKS-80 and MPG-80 are revision 5. 240v UK version.
Excellent sounding synthesiser with numerous editing features with the assistance of the the MPG-80. I prefer collection due to the value and rarity of the synthesiser to ensure that it is not damaged in transit.
Includes programmer cable, power cable and rack ears for the MPG-80. Will also include software editor for Ableton to control all functions using midi cc messages. " Click here to search for synths on eBay