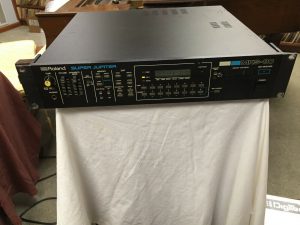 "Roland MKS-80 Super Jupiter Sound Module in good condition.
Flawless operation for over 30 years.
In a quiet room, I'm noticing a slight ambient hum not associated with the (clear) audio signal. Never noticed it in working situation but am hearing it while listing the item in a quiet room. Again, it's not in the audio signal.
Cosmetics (see pictures): Some scratches on top worst one of which is shown in a close-up picture.
Includes original manual – complete but worn and marked up.
Includes Roland floppy disc with original MKS-80 programs." Click here to search for synths on eBay