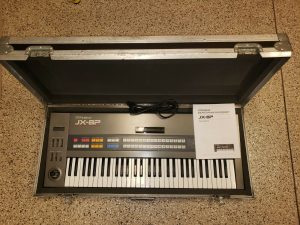 "Roland JX-8P with custom hard case, new power cord and printed manual.
Polyphony – 6 voices
Oscillators – 2 DCO's per voice (12 oscillators)
Memory – 64 patches + External memory cartridges
Effects – Portamento
VCF – standard VCF
VCA – ADSR envelope
Arpeg/Seq – None
Keyboard – 61 note keyboard with velocity and aftertouch
Control – MIDI In/Out/thru
Fully functional including Midi and stereo outs , with some refresh work done by me. All 64 presets work, all buttons work, bender works, Internal memory works ( the 32 internal memory slots have many custom patches), aftertouch works. Screen is bright.
New battery, with new battery holder ( in 20 years you won't have to solder a new one in, just pop it in!).
Restored endcap internal fastener channels. (The end cap plastic screw channels on most of these is old and cracks, because people over tighten them. They are mostly cosmetic and not structural. I rebuilt them with CA , new hard plastic channels and Marine Epoxy- please send me any questions)
The outside of the custom flight case is a bit rough, but the foam inside is still fine, and the keyboard fits snug. Brand new rubber feet installed.
The cosmetic condition of the keyboard shell is very good all around, a few bumps and nicks but nothing cracked or broken." Click here to visit listing on eBay