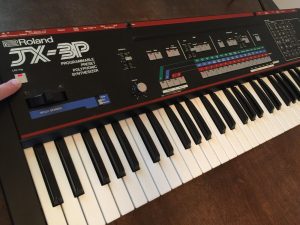 " Up for sale is a Roland JX3P. This is an amazing synth from 1983. If you're looking at this auction, you probably know what it is and what it does. Considered a "hidden treasure" type of synth, this particular JX is in great condition. Kept only in my non-smoking studio. Never dropped or exposed to rain. All buttons, knobs, and lights work. MIDI ports work. The resonance has been tuned/synchronized across all of the oscillators.
Can be used with a Roland PG-200 programmer for ven more flexibility but works just as well without it. All parameters are accessible and adjustable in real-time, even when the synth is being triggered via MIDI.
The JX3P is a sibling to the Juno series, having the same oscillators and filter section with the JX having an extra oscillator (Juno has one oscillator per voice and the JX has 2). The result is a machine capable of all of the classic Juno tones but also some new, deeper pads and basses. Plus you get MIDI functionality. The JX also has a sequencer which can be quite inspirational. Perfect for integrating into a modern MIDI-based studio.
Outputs on this JX are clean and noise free. Headphone jack is clean as well. Chorus is the classic Juno chorus." Click here to visit listing on eBay