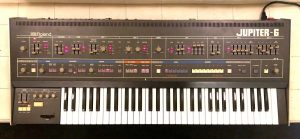 "I am the original owner of this Roland Jupiter 6 I purchased new in 1984, with a custom fitted Anvil Flight Case.
The condition is Very Good but is likely closer to Excellent. Used in my home studio to '95 and local gigs. No heavy road use, but was shipped internationally a few times. Has been mostly stored in its case the last 20 years or so.
Recently refurbished. All sliders, pots, buttons, switches,lights and keys have been checked, cleaned, lubed, exercised or replaced where necessary, new battery installed, midi function checked and memory restored to stock factory presets. The Glide pot was replaced with correct value but doesn't mount properly and wiggles a bit but works as it should.
The case has some surface rust and cracks in the black plastic but the plywood underneath is good, there is one small dent. All handles, latches, hinges, corners are solid, not loose and lock tight in place as they should. It is out being professionally refoamed now, so I will post a picture of the inside when returned.
The original manual that came with the unit is included and a new replacement power cable. " Click here to search for synths on eBay