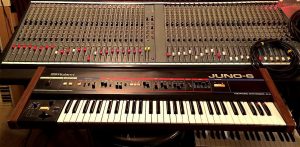 "Up for sale is our Classic and so Sweet Juno 6.
The original juno 6 is known to many as the best of the Juno series. There's something different about the oscillators and filter i believe. We, at one point, compared it to a Juno 60 and a Juno 106. The original 6 had a slightly bigger and beefier sound than that of the 60 (although the 60 offered patch recall). The 106 was the smoothest but lacked the "attitude" of the 6. For these reasons we have kept and used this Juno 6 for years and used it on many recordings. It has always deliver the BEST of the juno sound.
This Juno 6 is in great condition. ALL keys work, Its in tune, ALL buttons work, all jacks work. Plus it looks great for its age. The only issues to note for full disclosure are while all sliders on the main panel work.. some are a little stiffer than others. But they all work. Also, in the area of the pitch wheel.. the filter assignment to the pitch wheel seems to have no effect. Not sure if we are doing it right : ) or if that fader has issues.
BTW, The pics show a missing fader cap on the pitch wheel area, we have found it, so it WILL be included : )" Click here to visit listing on eBay
Leave a Reply