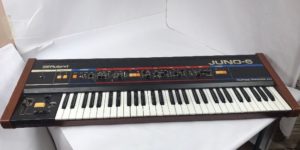 "Vintage Roland Juno 6 Analog Synthesizer w/ soft zippered case. All pictures are of the exact Juno 6 you will receive. This item was purchased as part of a large estate sale and I have no idea of the history. I have done my best to test this item, but I am not a musician so my tests are by no means a representation that it works perfectly. I wanted to do as much testing as possible to ensure I am not selling a 45 pound paper weight!
The first thing I did was plug the unit in to make sure it powers on, which it does. Then I brought it to my local music store for testing. They were unfamiliar with it and were unable to test the item. I brought it home and found some videos on you tube of a gentleman testing a Juno 6. In his tests he completes a Pad/String Test, a Arpeggio test, and a synthesizer test. I did my best to follow along with the tests on this unit and the sounds coming from this keyboard were similar to the ones on the video. In my opinion it passed the tests. Some of the knobs did seem dirty, as there was a slight delay in the effect being heard, although with some wiggling of the adjuster, it worked fine.
Also, I do not have speakers so all tests were conducted using the headphones plugged into the rear headphone port.
There are some bumps and bruises on the sides of the wood grain vinyl. The toggle joystick has broken off. There are some scuffs and scratches on the unit and a small spot of surface rust or corrosion that can be seen in the pictures. Also, one of the plastic knob covers is missing. The item will be shipped responsibly, within the soft zippered case and securely packaged. "
Click here to search for synths on eBay