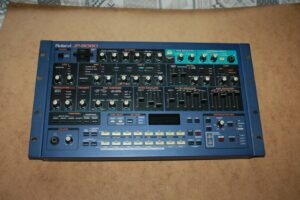 "I was sold this unit 6 months ago, no one listed these details in the write up.
Considering it's age I'd say the condition was very good, only details to note is some cosmetic scratches and such like on the rack ears where nuts have been tightened up, all is detailed in the photographs.
A quick note on the pots and sliders, their all in good condition some are looser than others but only slightly I don't think anything will need soldering to the board any time soon and there should be a whole lot of usage out of this machine before this is the case.
One section photographed where the numerical buttons are below the LCD screen these buttons in the upper right hand quadrant are slightly looser than the rest of the four quadrants but again consider the units age I don't think this is a problem, again my honest opinion are they very loose no, is it worryingly loose no, does it affect the usage no." Click here to search for synths on eBay