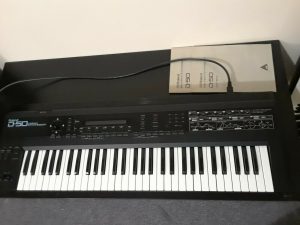 "Vintage (1987) classic/legendary Roland D-50 Synthesizer in excellent condition. Rubber contact strips were replaced by new ones about a year ago. A complete cleaning of the Keyboard contact board was also performed before placing the new contact strips. Slide potentiometers for Volume and Aftertouch were also replaced by new ones. The entire synthesizer is perfectly working.
One of the cleanest and greatest D50s you will see in a while for sale.
I'm also including a SKB 61 Key Hard Case, in very used condition but still solid, reliable, fully functional and a great way to protect the D-50 during shipping and to be used for gigging/traveling with the D-50 or any other standard 61 Key Synthesizer.
Original 2-prong power cable and original printed manuals also included." Click here to search for synths on eBay