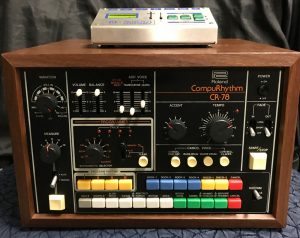 "Roland CR-78 CompuRhythm + CR78-PGM Controller Programmer
Roland CR78 is in great condition and comes with all as seen in pictures.
CR78's New battery holder, now uses a lithium battery for pattern backup.
All switches and knobs cleaned and work perfect . All patterns play and the memory patterns program and hold user programs.
The CR78 sounds and works great !
CR78-PGM is programmer and controller for Roland CR-78 drum machine. With help of it, CR-78 can be programmed very easy (by similar way as with original Roland WS-1 programmer). More over, CR78-PGM enables to control CR-78 during playback manually or via MIDI or DIN-SYNC buses.
Made by CHD ELEKTROSERVIS
Power supply connector DC
START/STOP signal output
WRITE signal output
CLOCK signal output
DIN-SYNC bus input
MIDI bus input
LCD contrast setting
Display
Synchronization selector – SYNC switch
Working mode selector – MODE switch
WRITE / PLAY INSTRUMENT button
NEXT / START-STOP button
BEAT / TEMPO DECREMENT button
BEAT / TEMPO INCREMENT button" Click here to visit listing on eBay