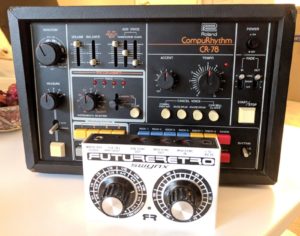 "Recently serviced with a new old stock faceplate installed, cleaned and new battery lithium installed for saving tracks on the programmer.
This auction also includes the awesome Future Retro SWYNX box that also you to swing the preset loops and also acts as a pattern programmer.
Last but not least this CR-78 has been modded with a knob on the back to adjust the bass drum decay, giving you a variable sound from a stubby kick shorter than the regular cr-78 bass drum all the way to a booming 808 like kick.
The wooden box itself has some dings and corner wear which is to be expected of a 40 year old machine. This could easily be replaced with any wood of your choosing in the future." Click here to search for synths on eBay