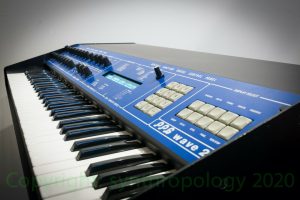 "Please do not hesitate to ask for references from our clients in the US, in Canada and Europe.
Full service documentation for this units is included in the purchase.
It's now ready for another 40 years of fantastic sound creation.
Considering that this fantastic machine is almost 40 years old, some wear is normal.
A few "mandatory" scratches on top of the unit, actually they are really minor for being a Wave.
Factory MIDI, individual outs are rare for such an early 2.2." Click here to search for synths on eBay