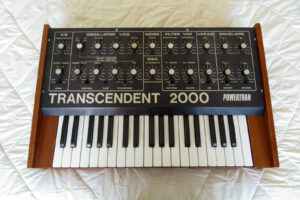 "Powertran Transcendent 2000 Analogue Synthesizer. Monophonic, so not possible to play chords on the keyboard. Testing this unit leads to the conclusion that a bit of setting-up and calibrating is required.
A home built kit from 1978, it has been working in the early days and put to good use. Now left unwanted and unused.
The original construction article with full instructions to build and calibration is supplied. Not all components used in the construction are as specified and the power cord and switch have been replaced by a Euro-style input socket and cable is supplied. The main printed circuit board, metalwork, cabinet and keyboard are the origanals as supplied by Powertran.
A known problem is that a few of the contact spring sets to the keyboard are out of alignment and I presume to be fixable. One of the wooden side panels has been split and badly repaired by my younger self (Shame on me) see image.
Although not shown on the images, the metal base plate is included" Click here to search for synths on eBay