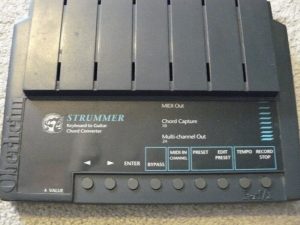 "One of vintage Perf / X modules by Oberheim .This one is Strummer – keyboard guitar emulator.
Unfortunatly the unit is not working.
If you can fix it – the Memory chips are replaceble and you can convert it to other Perf / X units :
interactive arpeggiator ,interactive drummer sequencer ,systemizer ,navigator as they share the same PCB board.
No power supply.
This is Parts / Repair unit .No return."
Click here to search for synths on eBay