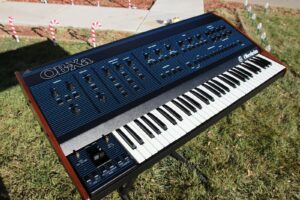 " Sadly, the time has come where I need to sell my beautiful Oberheim OB-Xa synthesizer. This is an early 8-voice 32-program version of the instrument (serial number 813313) with the wonderful Pratt-Read J-wire keyboard, but two of the voice cards were removed before I bought it so it's currently a 6-voice.
The synth is in very good condition on the outside and exceptionally clean on the inside. See the pictures taken in broad daylight.
I began the process of repairing the instrument, but further work is needed. The unit powers up fine, all buttons light up as normal, and the autotune runs to success. But for some reason all 6 voices are making a warbled, static-y type of sound. I don't know why.
When I bought the instrument, the voices tuned and played perfectly, so I think the voice cards are fine. The left hand controller is need of repair. The levers are not functioning correctly and the plastic rate and depth knobs are missing.
This is what's been done:
Replaced most of the 4000-series logic chips on the upper and lower control boards
Replaced all keyboard bushings, fixed any broken J-wires, cleaned the bus bar and all and leveled the keys
Replaced the battery
Cleaned all pots
I am not a certified technician and it became clear to me the extent of the repairs are beyond my capabilities. This is a great synth with the rare P&R keyboard. Sadly, the time has come for me to pass the baton to someone who can complete the work." Click here to search for synths on eBay