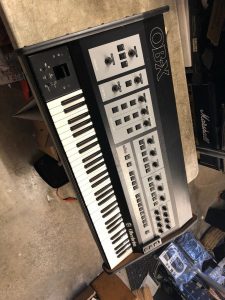 "Not a common synth to find on Ebay – there is one on Reverb for 10K
at the moment. Holy Grail for you vintage analog synth buffs. Dates to 1979.
cosmetically very nice, has a couple scratched keys and some normal age but
faces up well and not missing or broken knobs. Serial Tag on back stamped 6 Voice
I know these came in 4, 6 or 8 voice. no too many of this model made
Comes as seen, Please see all pictures. I too pics of the inside as well so you see exactly what you are getting.
powers on, some of the LED on the buttons on the left side just blink but the unit has No Sounds / output
all keys are there and move – not damaged – a couple are scratched.
Quite a rare unit and well worth the investment of having it brought back to life
I do not know a Synth tech that I can trust with this unit so I will leave it to you to
get it done right!
Since it will need service so it will be sold AS – IS No Returns"
Click here to search for synths on eBay