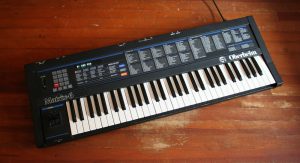 "Oberheim Matrix 6 midi synth keyboard with rare extras.
Superb condition for a 30+ year old analogue synth, one of the classic sounds from the 80s – all Oberheim synths sound HUGE! Awesome thick strings, cutting bass lines, anything the Matrix 6r or 1000 can do this does with a keyboard attached, and with 2 cool levers running both positive & negative. Assign these in the mod matrix.
I believe that last OS chip was retro fitted, and it has a 3 month old battery upgrade installed using the CR watch type batteries – easy for you to change next time! I loaded a sysex dump off of the web of nice sounds, plus this package includes the original manual, original brand foot pedal plus rare cassette tapes – Oberheim volume 4 150 basses, and the factory preset volume 1.
Oh, and a hybrid case too!" Click here to search for synths on eBay