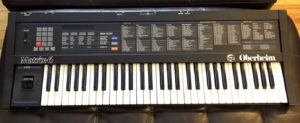 "Used Oberheim Matrix 6 keyboard with the following included: power cord, foot pedal, manual, sound patches cassette, some midi cables and travel case. The unit will be shipped in the travel case along with all of the mentioned items in the case front pocket.
I tested the unit and all buttons are in working order. All output jacks are working. All keys (black and white) are working. Both shifters are working. Volume control is working. Did not get to test the MIDI jacks.
Due to the age of the keyboard, I must disclose the following items.
•The display is not working properly. I did some research and I believe that a battery may need replacing.
•Minimal body scuffs but there is one dent in the corner top of the keyboard. Does not effect the play of the keyboard.
•And finally, the foot pedal does not work properly. Not sure if it is the pedal or the jack. It may be a setting on the keyboard that controls the foot pedal but with the display not working properly, I could not figure it out. The foot pedal is sold as."
Click here to visit listing on eBay