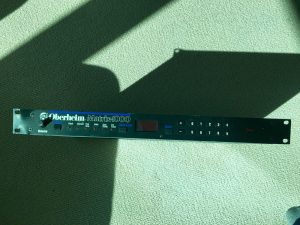 "Up for sale is a fantastic Oberheim Matrix 1000. The bass sounds on this are really fat and so are the lush evolving pads. I'm moving out of the country so I'm selling some gear. This is sad to let go because It's a great sounding analog synth that only takes up 1 rack unit.
The only problem is that the rack ears are bent.
Everything works perfectly.
You will definitely get lost in the matrix. I spent several weeks exploring this unit's sounds. They are really fun to play and experiment with. Some of the evolving pads independently evolve if you do a gradual arpeggio which makes it sound like it's playing a cannon." Click here to visit listing on eBay