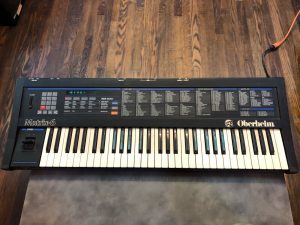 "I have had this matrix 6 for at least 10 years. I don't really want to sell it, but my car needs the transmission rebuilt and as you may know that is expensive. Something has to go!
If you don't know anything about the Oberheim Matrix Six, it six has that sweet analog sound that everybody wants, six Oscillators and full midi capability. velocity and pressure sensitive keys. This is an undervalued gem, grab it while they are still affordable.
It has been upgraded to the newest firmware, everything worked great when I put it away. Brought it out to sell and everything still works great as far as I can tell, I can select patches with the keypad, I can play music, and pleasing sounds then come out of my speakers.
Comes with what I believe to be the original foot pedal, a power cable, And the heaviest duty keyboard case I've ever seen, it is a tank! Unfortunately the foam is deteriorating, so you'll have to re-foam it before you can really use it. I will ship the keyboard in the ATA case but will use extra bubble wrap inside to protect it since the foam is falling apart."
Click here to search for synths on eBay