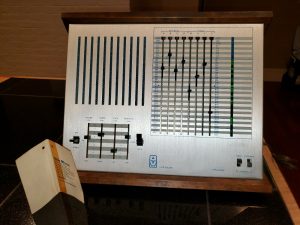 "Vintage 1972 Triadex Muse Analog Sequencer Synthesizer (Model MUSE-1) 01081-118. Condition is Used.
Origional price tag with it. $300 in 1972. – That's $1750 bucks in todays dollar. Pricey!
Doesn't have the optional amp, light box or paperwork. Please research for yourself, but anyone who knows what this is and has been looking for one, you already know.
Everything works. Normal and minimal out of box wear. Beautiful machine!
All buttons are present.
Works perfectly.
Smooth "action" on all slides.
Only flaw i can see is a cleaning scuff on the wood box from tape or something."
Click here to search for synths on eBay