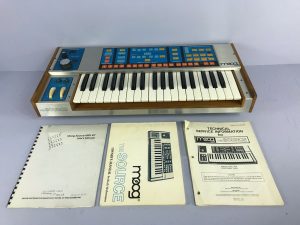 "Vintage Moog Source with Encore Midi. Powers up but stuck in edit mode so can't access to its function. Unable to test any further.
Cosmetically it is in very good cosmetic shape with just minor marks/scratches. There's few scratches on a section of the membrane panel as seen in picture #4.
Includes original owner's / midi kit manual,service info., & power cord.
SOLD AS IS. NEEDS REPAIR." Click here to search for synths on eBay