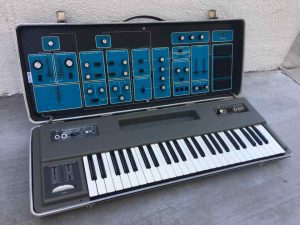 "PLEASE READ THE FOLLOWING DESCRIPTION CAREFULLY, I'm going to try and explain the state of this synth as best as I can:
So, this thing was an impulse buy that I made pretty dang recently. It set me back a cool $1500 plus tax.
This unit is serial number 1126, which was written on the plastic film on the front panel. The plastic was separating and had to be removed. I put the serial number back with a label.
It is a very early Sonic Six with a build date of November 7, 1972, as-per the inspection sticker hidden inside the keyboard section.
It was found untested, as-is, at an estate sale in western New York State, then it was shipped to me in California. I figured I'd take a big risk and see if it had any life left in it. Once it got here in one piece, I sourced a replacement power cord, and tested it out. It powers on and makes sound, but well… it's not a happy camper right now:
Upon powering it on, all I initially get is a high pitched whine if I bypass the filter and contour (envelope) -It would seem the RIGHT side of the front panel is non-responsive, but the LEFT side of the front panel is showing signs of life and the controls (more or less) do what they're supposed to do. I was able to play with the dual LFO's when routed to pitch. The internal speaker does work, and the volume and portamento controls seem to work as well.
The keybed still has nice key action. No clacky keys, and it seems to be tracking notes somewhat, but not in a musical way. Every key seems to at least change the pitch.
What I did:
I tested it, took a look inside, and got the cobwebs and skeletons out. Looks all-original) No rust or oxidation, and no missing parts (as far as I can tell). The PSU looks fine visually, but probably needs new caps. (there are two big ancient ones)
I haven't tested the PSU for weird voltages or anything. There was a crusty plastic film covering the entire front panel and some of the switches on the keyboard, but I got most of it off.
I did have to replace some screws. The ones that secure the keybed assembly on the bottom are new. The ones holding the front panel in place were already there, but they are not a perfect fit. One slider cap had a crack in it and it won't stay on, but I will include it, along with a couple metal clips that I found inside.
Cosmetically, it's pretty decent. Some scuffs, dings, and scratches, but nothing absolutely terrible.
Long story short: it powers on, it makes …SOME sound… but it's not working properly and needs to be looked at and serviced by a professional tech who knows how to work on vintage synthesizers. I don't know what it needs, but your favorite tech might! Sold AS-IS in vintage non-working order and no returns. " Click here to search for synths on eBay