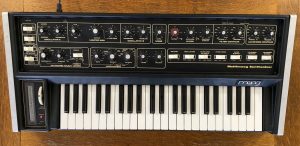 "Relisted, US Shipped only. This auction is for a used Moog Multimoog analog keyboard synthesizer serial number 1383. Only 1000 of this model were made.
This is one of the last keyboard designs Bob Moog worked on before Moog Inc was sold to Norlin. This was designed during Moog's Buffalo NY years, manufactured from 78-81. This synthesizer has an assignable ribbon touch controller as well as an assignable aftertouch keyboard. The front panel graphics and lettering are the gold variation. This is built like a tank, made for playing and handling and will last a very long time if given proper attention and care.
This Multimoog has been stored (clean and dry) for over a decade. Coming out of storage it exhibits all the symptoms of a vintage analog synthesizer long out of use. While the synth powers up and outputs sound it will need a full servicing to be brought back up to spec. It will be for the buyer to determine any needs.
I cannot test the S-Trig or accessory ports but all other audio/CV ins and outs are working. Engaging the front panel pots and switches produces audio signal noise and there are some intermittent switches and keys. The keybed seems to have held up well with few intermittent keys, it has a nice solid feel and weight. Ribbon controller, mod wheel, routing, routing, LFO, VCO's, Noise source, VCA and VCF all function. Cosmetically the synth is in good condition considering its age. The panel lettering is clean and intact. The front panel itself is in good condition with no damage. The original Moog nameplate is present.
The surface cover material on the ribbon controller is worn and there is a small tear. The ribbon controller still functions normally. All the knobs and switches are original. The cutoff knob was painted red by a prior owner. The power socket had been epoxied as a repair at some point before my ownership. The power cord detaches and attaches normally and it has worked without issue during my use. I have tried to include photos of all the areas mentioned." Click here to search for synths on eBay