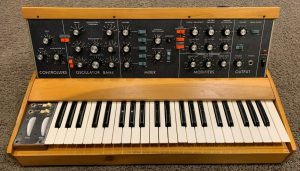 "1973 Moog MiniMoog Model D Serial #3725 Refurbished
This is not a reissue but an original Minimoog. That said, you don't know what you're getting unless your vintage Minimoog has been refurbished. Costs to restore one can run into thousands of $'s.
This unit was completely disassembled and all pots, switches and boards were meticulously cleaned and tested. The keyboard was calibrated and leveled with new springs. It plays perfectly and the oscillators are stable.
The exterior has some scratches and dents as can be seen in the pictures but is overall in great condition.
The following parts were replaced:
2 fuse holders & fuses
Power cable
Power and overload lamps
All contact springs and board mounts
2 Jones Plugs
Small piece of wood below the tone wheels" Click here to visit listing on eBay