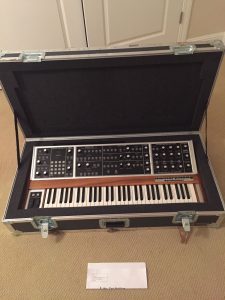 "This is the one and only Moog Memorymoog with The LAMM upgrade straight from Rudi at Linntronics in Germany. (new keys, bushings, stable tuning, etc. check his website for details)
It is unequivocally the finest Moog made and the best MemoryMoog out there from a sound, midi, performance, stability, collectors and long term investment point of view. Comes with durable custom case which was hand delivered both ways per request of Rudi. He doesn't accept fedex, ups, dhl or none of those companies. It is an exclusive, super expensive, pain in the butt shipping service which i've never heard of before.
One of the reasons the last LAMM that sold here on Ebay for 25k 3 years ago, is because Rudi at Linntronics' turn around time is OVER 2 YEARS long. Along with the risk of sending your beloved 8k MM out to a foreign country for over 2 years (not for the faint of heart) and paying $2,000 dollars in shipping fees, plus another $500 for the customs tax charges and close to another $1,000 for a pro ANVIL custom built case,.. and that's not factoring Rudi's $7000 upgrade cost for his time, service and parts which goes up every year. This is one investment that will bring you years of unmatched sound and quality while holding its value and maybe even appreciating every year for you collectors.
So the price is non negotiable.
Always kept in my non smoking, temperature controlled private recording studio. "
Click here to search for synths on eBay