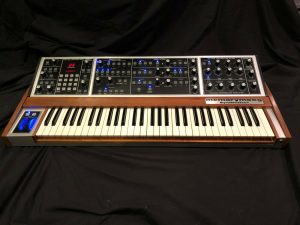 "
This gorgeous Memorymoog is an extremely rare and valuable instrument. It is a low serial number (1047) model with black side panels (few had black sides; most are silver). It was thoroughly overhauled in 2013 by Rudi Linhard to become a Lintronics Advanced Memorymoog (LAMM). Lintronics also replaced the original red LEDs with blue LEDs, and replaced the solid black mod wheels with luminescent blue LED wheels, motivating Rudi Linhard to nickname this monster "Blue Beast".
The synth has also been meticulously maintained and further refined by Retrolinear, Inc., one of the premier vintage electronics repair and restoration companies (see Retrolinear's website for their "A-list" band clients). Among other things, Retrolinear replaced the original power supply with an upgraded unit. The new supply is much lighter. More importantly, it is also silent. (Factory Memorymoogs used a noisy fan.) Retrolinear has also restored or replaced keybed elements and voice chips. All six voices tune.
Included in the sale is a custom flight case fabricated by Mark Dehart at Rock Hard Road Cases. Also included are copies of original Moog Memorymoog service and technical manuals; the Lintronics LAMM manual; and documents showing the LAMM and maintenance work provided.
A "regular" Memorymoog in good shape is an incredible find. The Blue Beast's feature set and condition, however, are unmatched. You can see from the photos that, cosmetically, the Blue Beast is exceptional. It sounds better than it looks. The Blue Beast has lived in my home studio and has never been gigged or loaned."
Click here to search for synths on eBay