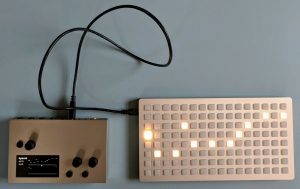 "Hello, this listing is for a Monome Norns and a 128 Grid, bought new by me in Nov 2018 from the states. With import charges this came to a few quid short of £1,400. Both items are working great and operate as you'd expect. Please bear in mind that much of the Norns software is still in active development. Check out the Monome Lines forum. At the time of writing I have the latest version of the Norns software installed.
These devices are a lot of fun, work very well together and have so much potential (as more and more scripts get written for them by users). it feels strange to be selling them so soon after buying them, but I don't really have much of a setup to integrate these guys into and I'm not in a position to spend more money on a setup. They've been a lot of fun, but now I want to try something else.
Condition wise the Norns has only got a bit dusty and fingerprinty since November. Unfortunately on the Grid the aluminium front edge has ever so slightly dented in two places. You can see this at certain angles and you can feel it when you run your finger along the edge (the dents feel smooth though, not rough). This was caused by accidentally dropping a very small plastic dictaphone onto it from about 8 inches away when I was doing some lo-fi tape experimenting. I guess those aluminium edges are pretty soft! If someone knew what they were doing I wonder if they could recut the edge? See the last two photos where I have highlighted in red.
What's included is everything I got from new (it's everything in the 2nd photo):
Norns
128 Grid
2 x USB cable
USB WiFi dongle for Norns
US style USB charger
Norns packaging and info sheet
Grid packaging and postcard This is a UK only listing and postage will be free via Special Delivery. The items can also be collected from the BS3 area of South Bristol. " Click here to search for synths on eBay