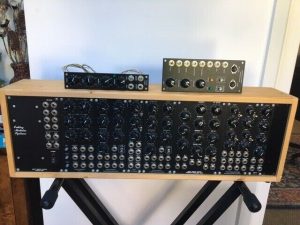 "The synth consists of the following modules:
Master panel/PSU/Multiple
Triple LFO
2x VCO's
VCO Controller
Transistor Superladder Filter (VCF)
Quad VCA
2x ADSR/VCA (1 mounted in the rack, 1 Loose)
MiniDAC Midi to CV converter. (Loose)
Everything is working as it should, and sounds superb.
The wooden enclosure has a few marks on it here and there but nothing serious.
The modules are extremely high quality 5U units with quality hardware, 1/4" jacks, "Bridechamber" steel front panels with high quality silkscreening.
IEC power inlet on rear of enclosure.
Inside is the Oakley "Dizzy" power/cv & gate distribution pcb.
Grab yourself a bunch of modules for approximately half the price of buying new.
The postage cost is on the high side because of the insurance required." Click here to search for synths on eBay