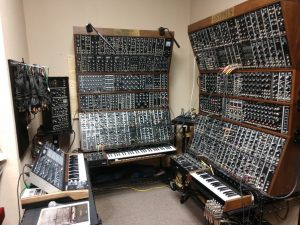 "Large-format modular system offers: 40 modules of various brands and 150 Synthesizer.com modules. In addition, there are various power-related modules, mounted in the front and the rear.
The system is 275 MU's front face panels spaces plus 32-more in the rear. Featuring: 27 full-range multi-waveform oscillators, 12-filters, 3 discrete MIDI interfaces, and 4 sequencers. ( not including the Matrixbrute features)
It has taken over a year to purchase and assemble all of the modules: this system is completely ready to use. Most of this system is housed in solid walnut cabinetry.
There are a few modules I bought in used condition, but the rest are new purchases. The cabinetry, controllers, and cabling are all new. After assembly, this system has not been moved, exposed to smoke, or touched by anyone but me.
The entire system is in excellent condition, with a couple of VERY minor scuffs where modules have been periodically installed and/or relocated.
Regrettably, this system got EXTREMELY LITTLE USAGE, and was left powered-OFF when not in use, sometimes months at a time.
I estimate a third of the modules have never been used.
As you can see, a higher percentage of this system is comprised of Synthesizer.com products, a solid/secure company who has steadily dominated the large-format modular world with superbly built and designed products. Their reputation is 2nd-to-none. The customer support is excellent and their facebook page is very useful. In addition, there are MANY instructional youtube videos, which are VERY helpful. This entire system is functioning properly with no known calibration issues.
I have documentation for most modules, that I have painstakingly collated, hole-punched, and arranged in a comprehensive binder.
One of the 22-space cabinets has a small ding on the front lip ( see photo) which could be repaired with a small amount of wood-putty and stain.The 22-space cabinets have warped slightly due to exposure to environmental differences between Texas and the WV Ohio River Valley where it currently resides.
I'm in no rush to sell this, and as such, for the time-being, will NOT sell individual pieces. This is for that one person who has wanted to get into a large-format modular but may have hesitated to engage due to the massive man-hours and waiting time to assemble such a massive system. I have over $59,000 invested in this system."
Click here to search for synths on eBay